Tailoring Project Funded by Global Philanthropic Alliance
March 2013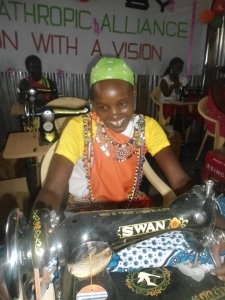 Tailoring Project Classroom With funding from Global Philanthropic Alliance, Mission With a Vision has started a tailoring program aimed at empowering women to start their own business. The goal is to help women forced into early marriage, gain skills which will help them start businesses for themselves. Most of the women have not had the opportunity to attend school. This project is well suited to the women, since it involves practical skills. We are seeking funding to employ a teacher and purchase books to give the trainees the basic reading and writing skills necessary once they start their businesses. We will also seek further funding from Global Philanthropic Alliance to expand the project and make it self-sustaining through production of clothes for sale by those who have received training. We thank Global Philanthropic Alliance for this support.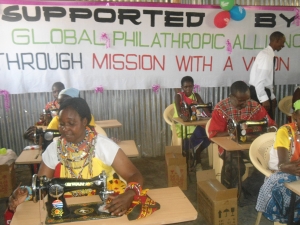 September 2012
Sometimes girls that are rescued and brought to the safe house are too old to join normal school program. This has happened in quite a number of cases where girls rescued are over 18 years and have never entered school. In such a situation we have decided to give them vocational training and also teach them the basics of how to read and write. We also hope to use this training to assist girls who were married off at a tender age and would like to learn a skill to help them assist their families.
We have been holding a pilot program the whole of this year and we had the privilege of getting a visit from the United States Ambassador to Kenya who saw firsthand what the girls are doing. The three girls who were in the pilot program have just graduated in October. We gave each one of them the sewing machine they have been using for the training so they could start their small businesses. We are now looking for donors to help us roll out the program.
Ewang'an Vocational Training School
Our aspiration is to establish the "Ewang'an Vocational Training School" for some of the girls in the Safe House. Ewang'an, means light in Maasai. This will help to ensure that some of the girls that have completed their high school education can acquire professional skills without delay. While most of the girls at the safe house perform well enough to join colleges after high school, we are often faced with difficulty when it comes to finding vocational training for girls with little educational knowledge. As a result, some of these girls often end up without any means of acquiring professional expertise.
We believe that the vocational training school will be helpful in training these girls acquire a variety of skills applicable in the current job market.
Ewang'an will be a non-profit vocational training school. The curriculum will include:
• Computer programming, repair and maintenance
• Video shooting and editing
• Dress-making
• Bakery
• Farming
• Electric Installation
• Crafting
• Hair-dressing and Beauty Therapy
Our hope is to train about 20 girls. Also, we will include other girls from outside the Safe House that will pay to acquire vocational skills. Their training fee will be used to compensate the instructors at the school.
You can be part of this project by contributing towards the purchase of building the entire school. Our target in 2015 is to raise approximately 200,000 dollars to cater for expenses in buying land, and building the school. The donations will also be used to buy the equipment required for the training programs.
Join hands with us and help us build this school.
Warm Regards,
Patrick